2017 Digital Study Trends Survey
McGraw Hill asked almost 3,000 students to reveal their study habits and the role technology plays in learning.
4 Out of 5 Students Agree: Digital Learning Technology Has a Positive Impact on Their Grades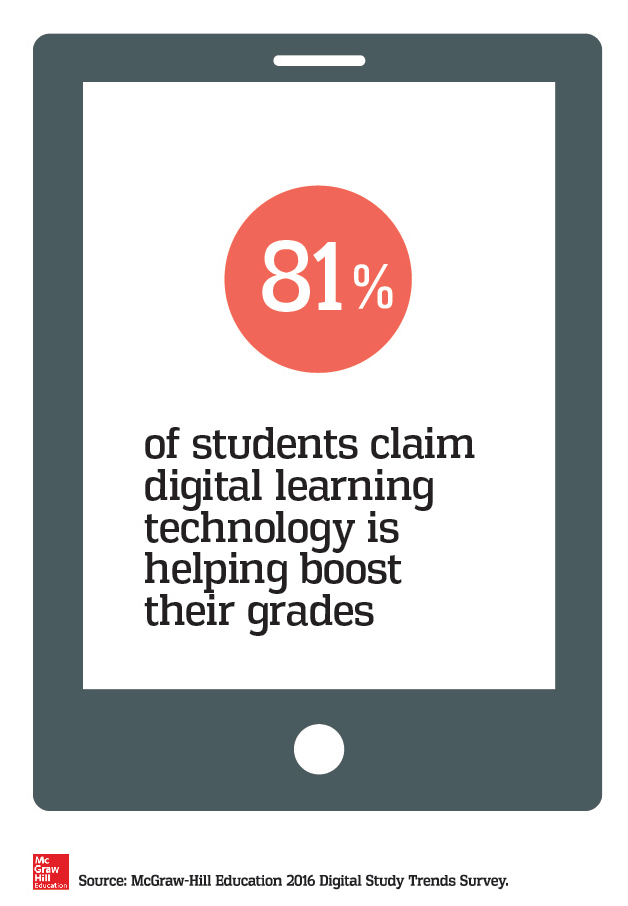 84% of students report that the use of technology improves their education
81% report that digital learning technology helps save them time and be more efficient
81% claim that digital learning technology is helping them boost their grades
As the class of 2020 starts its freshman year of college, students are increasingly looking to get maximum value out of their higher education experience. According to a new survey by learning science company McGraw-Hill Education, college students view digital learning technology as a key tool for achieving that success. The survey of more than 3,300 U.S. college students in associates, bachelors and graduate programs shows that four out of five (81 percent) college students find digital learning technology to be helpful in improving their grades, and more than two-thirds (69 percent) feel that digital learning technology helps them to focus. However, there is still room for improvement, as 45 percent of students report having encountered problems integrating digital learning technology with their personal devices. The results of the study also explore some of the ways in which technology—and adaptive technology in particular—can improve the student experience. Adaptive learning technology and online quizzes are seen to be the most impactful, with half of students who have used them reporting that they have a "major effect" on their grades.
To download and read the 2016 Digital Study Trends Survey, visit www.mheducation.com/studytrends.
Save
Save